Not to be confused with the Leeward Islands.
The
Leeward Antilles
(Dutch: Benedenwindse Eilanden) are a chain of islands in the Caribbean specifically, the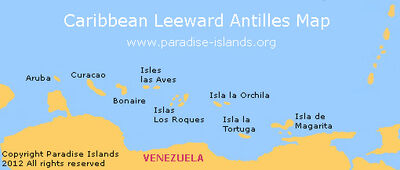 southerly islands of the Lesser Antilles (and, in turn, the Antilles and the West Indies) along the southeastern fringe of the Caribbean Sea, just north of the Venezuelan coast of the South American mainland. The Leeward Antilles, while among the Lesser Antilles, are not to be confused with the Leeward Islands (also of the Lesser Antilles) to the northeast.
Largely lacking in volcanic activity, the Leeward Antilles island arc occurs along the deformed southern edge of the Caribbean Plate and was formed by the plate's subduction under the South American Plate. Recent studies indicate that the Leeward Antilles are accreting to South America.
Territories of the Netherlands
Edit
Federal Dependencies of Venezuela
Edit
Nueva Esparta
Las Aves
Los Roques
La Orchila
La Blanquilla
Los Hermanos
Los Testigos
Isla la Tortuga
Isla de Margarita
Ad blocker interference detected!
Wikia is a free-to-use site that makes money from advertising. We have a modified experience for viewers using ad blockers

Wikia is not accessible if you've made further modifications. Remove the custom ad blocker rule(s) and the page will load as expected.